Project Blessing
Tuesday and Thursday
10am-2pm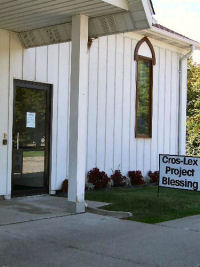 Mission Statement:
"The mission of Cros-Lex Project Blessing is to serve the Croswell and Lexington communities by providing food and emergency assistance, based on referrals."
Project Blessing does this by receiving referrals from FIA or from the pastor of your church.
The Cros-Lex Project Blessing is located right inside Trinity Lexington Church at:

5646 Main Street, three blocks south of the light. phone number: 359-2045
Project Blessing is organized and run under a board of directors who come from our local churches in this area.
2011 Activities:
§ Received food/other donations from 42 organizations/individuals valued at an estimated $17,000.
§ Received monetary donations from private individuals, local civic and religious organizations as well as grant money (see next bullet point) of $26,247.
— Applied and received monies from grants.
— Blue Water Convocation/Episcopal Church
— HDC – EFSP emergency food funds
— Saginaw Diocese of Catholic Bishops "Operation Ricebowl"
§ Enlisted 57 volunteer workers to staff the food pantry for a total of 800+ hours.
§ Held 5 Board meetings.
§ Trained and updated volunteers at a general meeting held in October.
§ Worked in conjunction with the Sanilac County HDC to distribute Emergency Food and Shelter funds in the Croswell Lexington communities.
§ Continued working with the local ministerial group to identify those who are in need in our community.
§ Provided printed material to clients for additional resources in the local area that might provide further assistance.
Improving Our Service:
§ Our food list was revised to reflect a more healthy approach to our food distribution. Food is now stored in the pantry by food groups so that a more nutritionally balanced package can be given to our clients.
§ Information was reported in local newspapers so that the general public would have a better idea about the needs of the food pantry.
Serving the Community:
§ 977 people in 259 families received food and personal/laundry items. This is an increase of 49% over 2010.
§ 61 people in 20 families received food from the pantry as part of church congregation's holiday food basket distribution.
— Total value of Food Distribution is approximately $29,000.
§ 188 families were helped with $16,018 in financial relief to prevent eviction and/or utility shut-off, emergency transportation and medication needs. (This is down from 2010 due to $17,000 in funds from the Federal Government (ARRA) were earmarked for rent only. Those funds were not available in 2011.)
Some may say that the economy is turning around and getting better, but here in the neighborhoods the need for basic necessities like food and shelter is only increasing as is shown by the incredible increase in the number of people we have served this year compared to last. In spite of decreased federal funds and less grant monies, our generous community, both individuals and organizations, have stepped up this year to provide funds for our continuing ministry to the Croswell and Lexington communities. God continues to bless us and with thankful hearts, we continue to serve our neighbors. We look forward to 2012, hoping the economy improves and willing to help when and where we can.
*Cros-Lex Project Blessing is funded and operates separately from other Project Blessing groups in Sanilac County.
Blessings,
Board of Director


Pictures