Project Blessing
Tuesday and Thursday
10am-2pm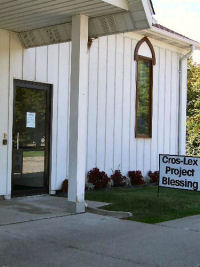 Mission Statement:
"The mission of Cros-Lex Project Blessing is to serve the Croswell and Lexington communities by providing food and emergency assistance, based on referrals."
Project Blessing does this by receiving referrals from FIA or from the pastor of your church.
The Cros-Lex Project Blessing is located right inside Trinity Lexington Church at:

5646 Main Street, three blocks south of the light. phone number: 359-2045
Project Blessing is organized and run under a board of directors who come from our local churches in this area.
Seniors Being Hungry is a Nationwide Epidemic. Nearly one in every six seniors in America faces the threat of hunger and not being properly nourished.

Read More - www.aginginplace.org

Pictures