Project Blessing
Tuesday and Thursday
10am-2pm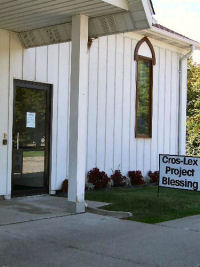 At Project Blessing, we have a mission: to serve the Croswell and Lexington communities by providing food and emergency assistance to people in need.
Project Blessing does this by receiving referrals from FIA or from the pastor of your church.
The Cros-Lex Project Blessing is located right in Lexington at
5646 Main Street, three blocks south of the light, phone number- 359-2045 and is organized and run under a board of directors who come from our local churches in this area.
Many households were helped in 2007, and as we wrap up the winter months this organization continues to be very active. In 2007 we were able to serve our neighbors in need as follows:

530 people in 144 families received food and personal/laundry items.

68 families were helped with financial relief to prevent eviction and/or utility shut-off, and to meet emergency transportation needs, totaling $6900 for the year.

18 families received food and a frozen turkey from the pantry as part of a church congregation holiday food basket distribution.

Every person who comes to the door also receives encouragement, consideration, and compassion as a child of God.
The need is great in our communities, and as state and local assistance agencies have fewer resources to help in 2008, we expect to be called on with more frequency. With your continuing financial support, we are confident we can meet the needs of our neighbors who are at a vulnerable time in their lives. Please help by volunteering and/or making a donation to Cros-Lex Project Blessing through your local church.

Blessings,
Board of Director

Pictures